Oregon mass shooting is 294th this year, and more data on gun violence
Getty Images
A gun shop in Roseburg, Oregon.
In the aftermath of the shooting at an Oregon community college Thursday that left 10 dead, including the shooter, America once again faces questions over what can be done to address gun violence.
Here are the data, charts and maps seeking to put the issue in perspective.
Mass shootings have become routine in the U.S.
President Obama delivered an emotional statement to the press Thursday lamenting that the U.S. is the only developed country in the world where mass shootings have become commonplace.
There's data to show that he's right.
As of Friday, there have been more mass shootings in 2015 than days of the year. That data comes from the Mass Shooting Tracker, which defines a mass shooting as one in which "four or more people are shot in an event, or related series of events, likely without a cooling off period." It's been visualized a few different ways from Quartz's simple bar chart: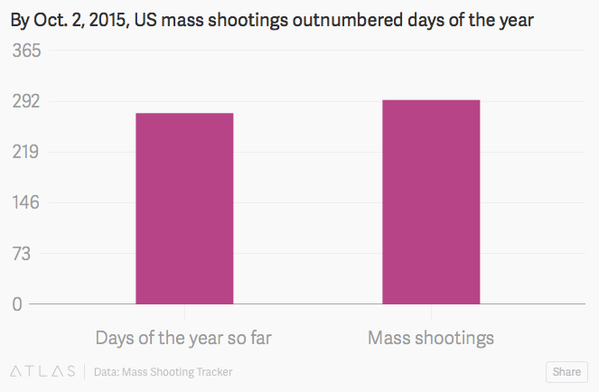 To the Washington Post's calendar tracker, which shows we've gone no more than eight days without one of these incidents this year.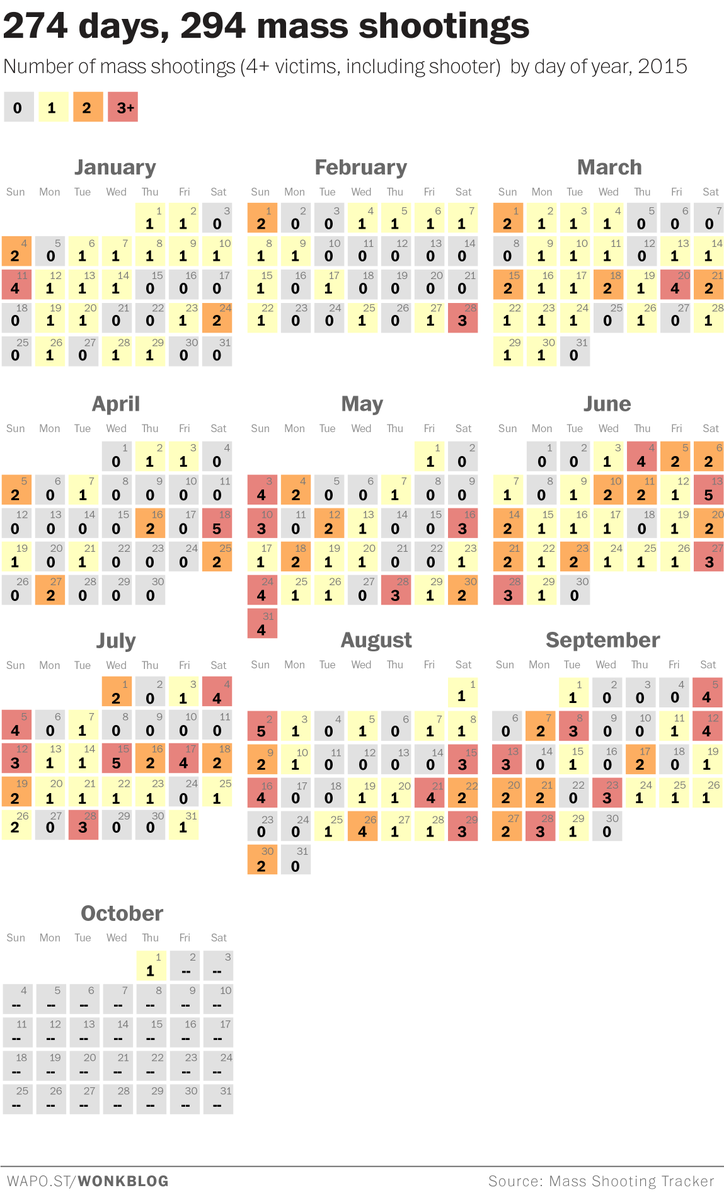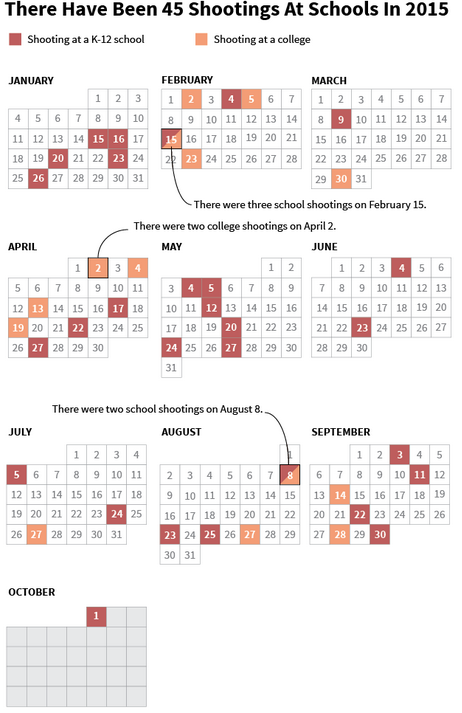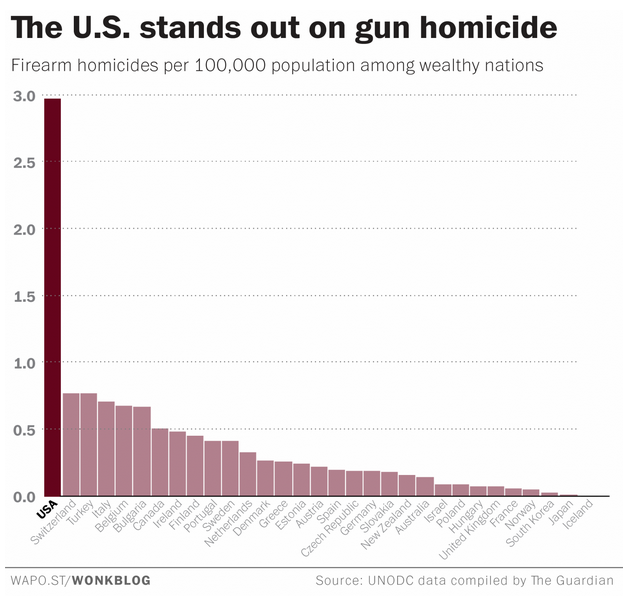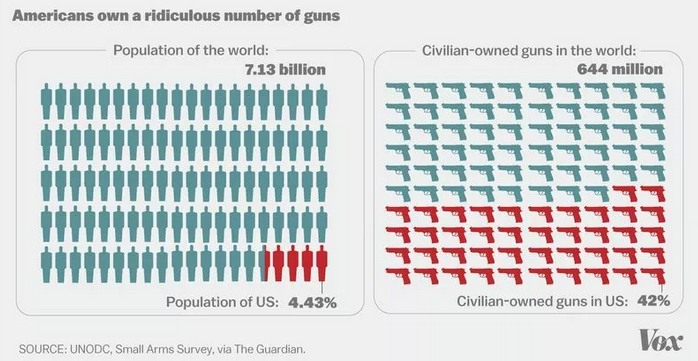 The United States has nearly twice as many guns per 100 people as the next closest country.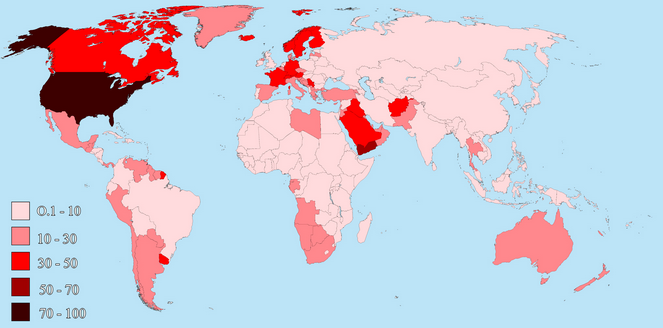 Somehow this has become routine," Obama said. "The reporting is routine. My response here at this podium ends up being routine, the conversation in the aftermath of it ... We have become numb to this," he said.
Gun violence vs. terrorism
In his statement on Thursday, Obama also had a request of the media: "Tally up the number of Americans who've been killed through terrorist attacks in the last decade and the number of Americans who've been killed by gun violence, and post those side by side on your news reports," he asked.
Vox did so: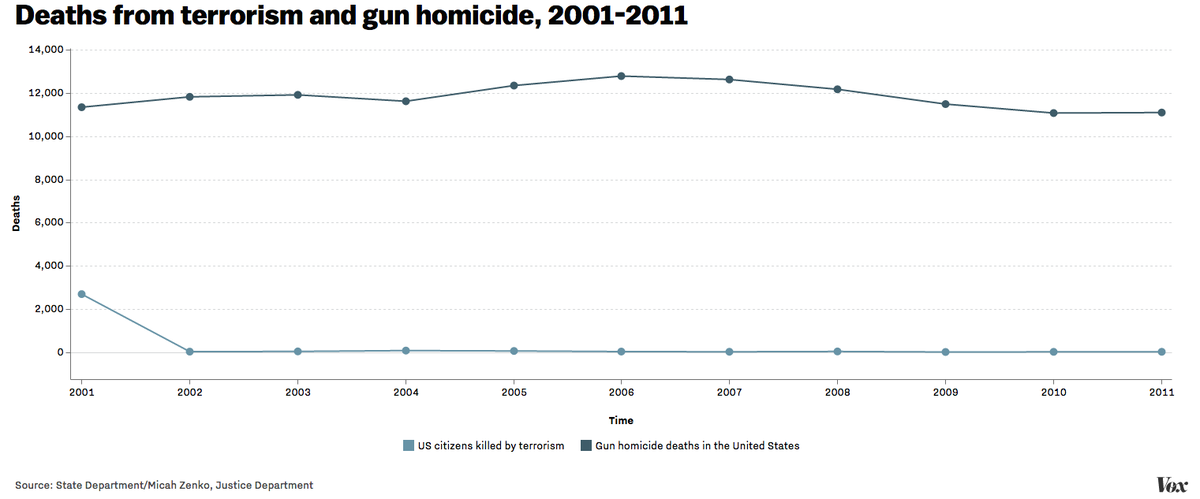 So did The Washington Post: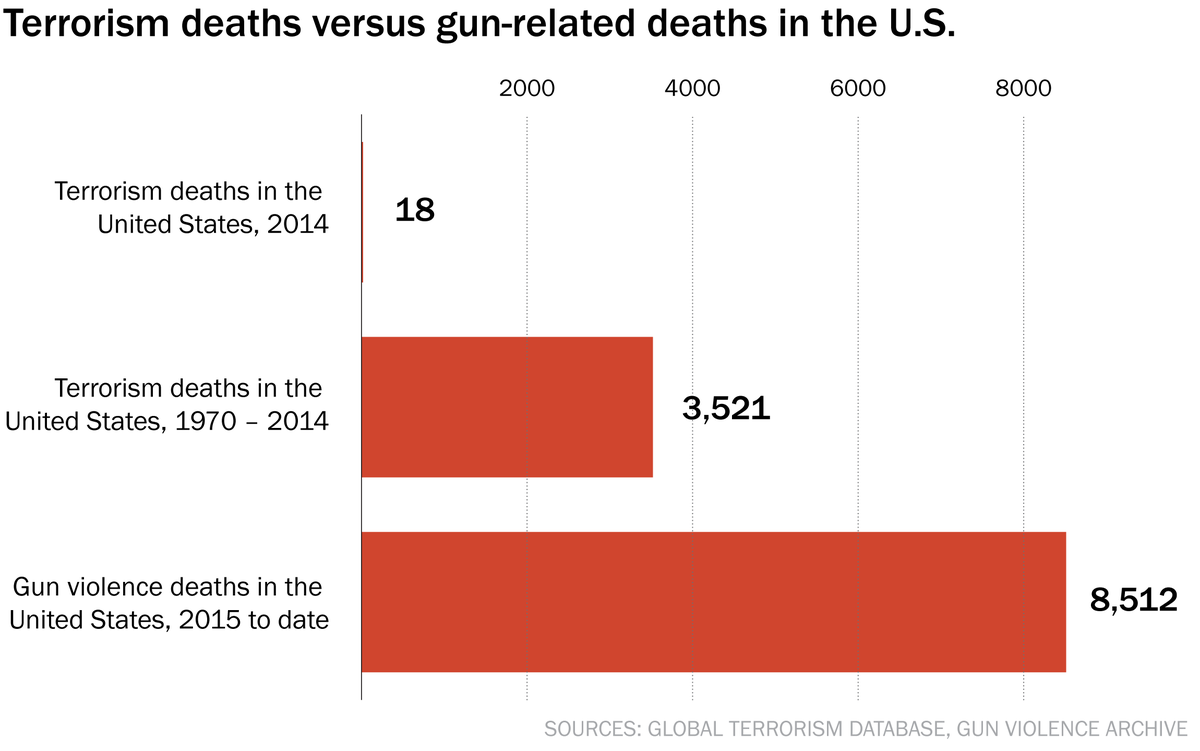 How politicians are framing the issue
On Friday, Obama said his primary strategy going forward on gun control legislation would be to mount a public campaign. He again called on Americans to change the politics and elect lawmakers who are willing to take steps to curb gun violence.
"You have to make sure that anybody who you are voting for is on the right of this issue," Obama said.
Quorum visualized the congressional response to major shootings over the past several years: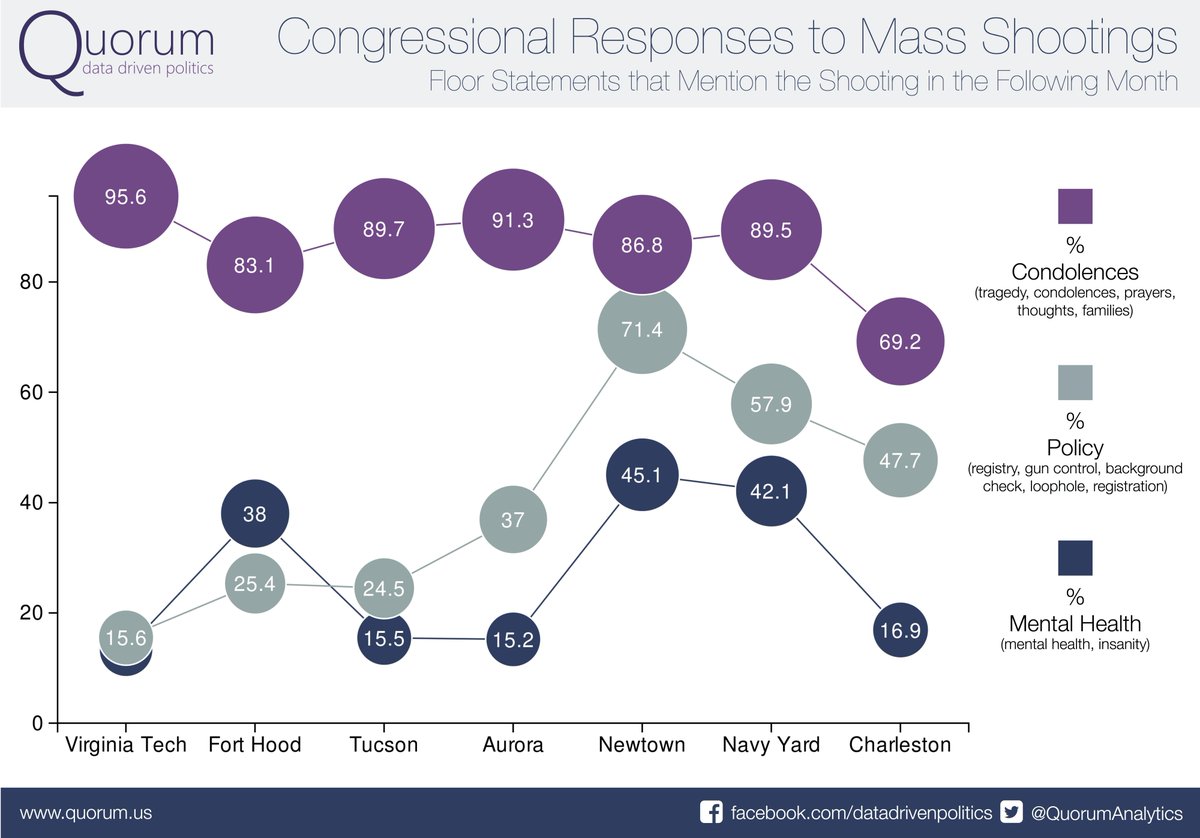 That data show that congressional mentions of mass shootings in the context of gun control and mental health issues peaked after the late-2012 massacre in Newtown, Conn., when the White House unsuccessfully pushed for increased background checks for gun purchases.
Republicans and Democrats do differ on the issue of guns, at least, in how they talk about it:
Democrats and Republicans use very different words when talking about guns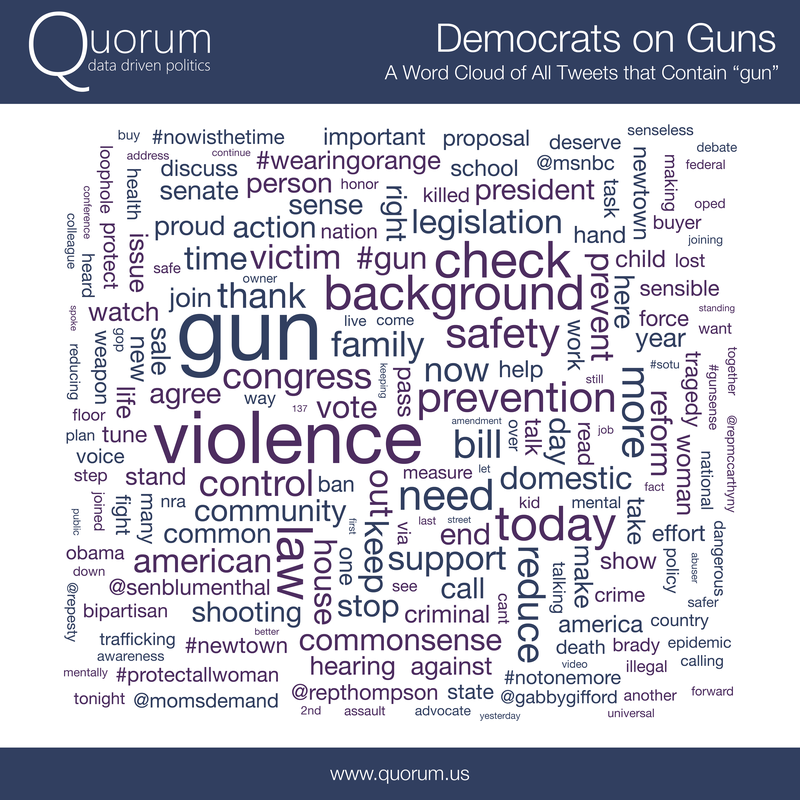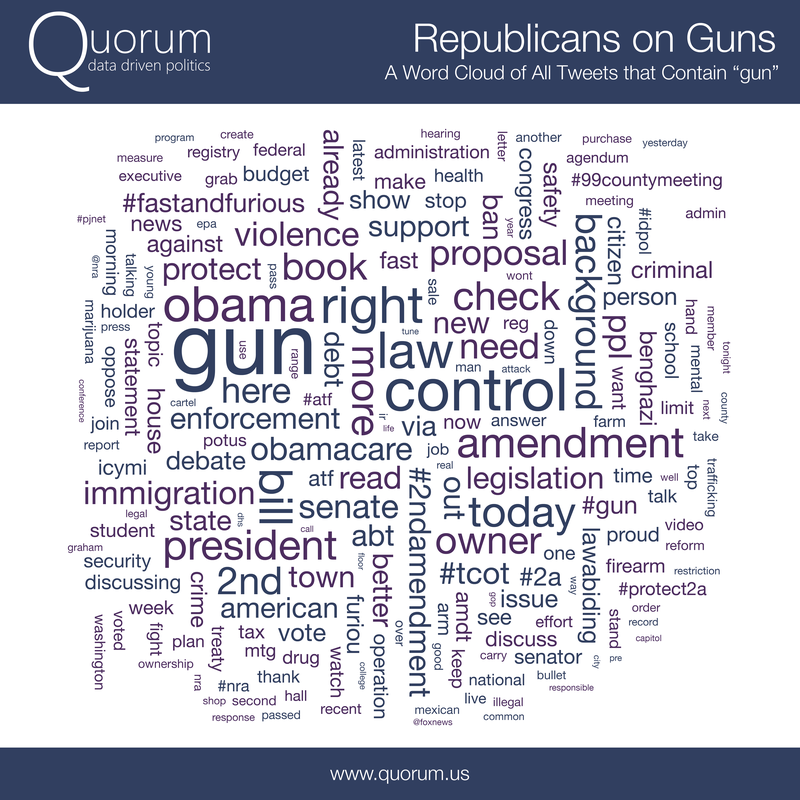 Meanwhile, a National Journal article looked at the congressional response by tallying up the number of bills addressing gun usage and access passed in the wake of school shootings: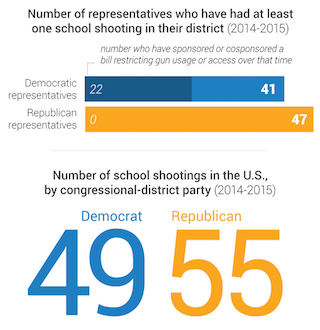 What about state legislation?
The death rate in Oregon is 11.8 per 100,000 people, which puts it right in the middle of the range for all U.S. states, according to data from the Centers for Disease Control and Prevention and National Center for Health Statistics.
Among the states with the lowest death rates from firearms are Massachusetts, New York, Connecticut, and Hawaii.
A graphic in the National Journal explains why that might be: those same states have the most gun laws.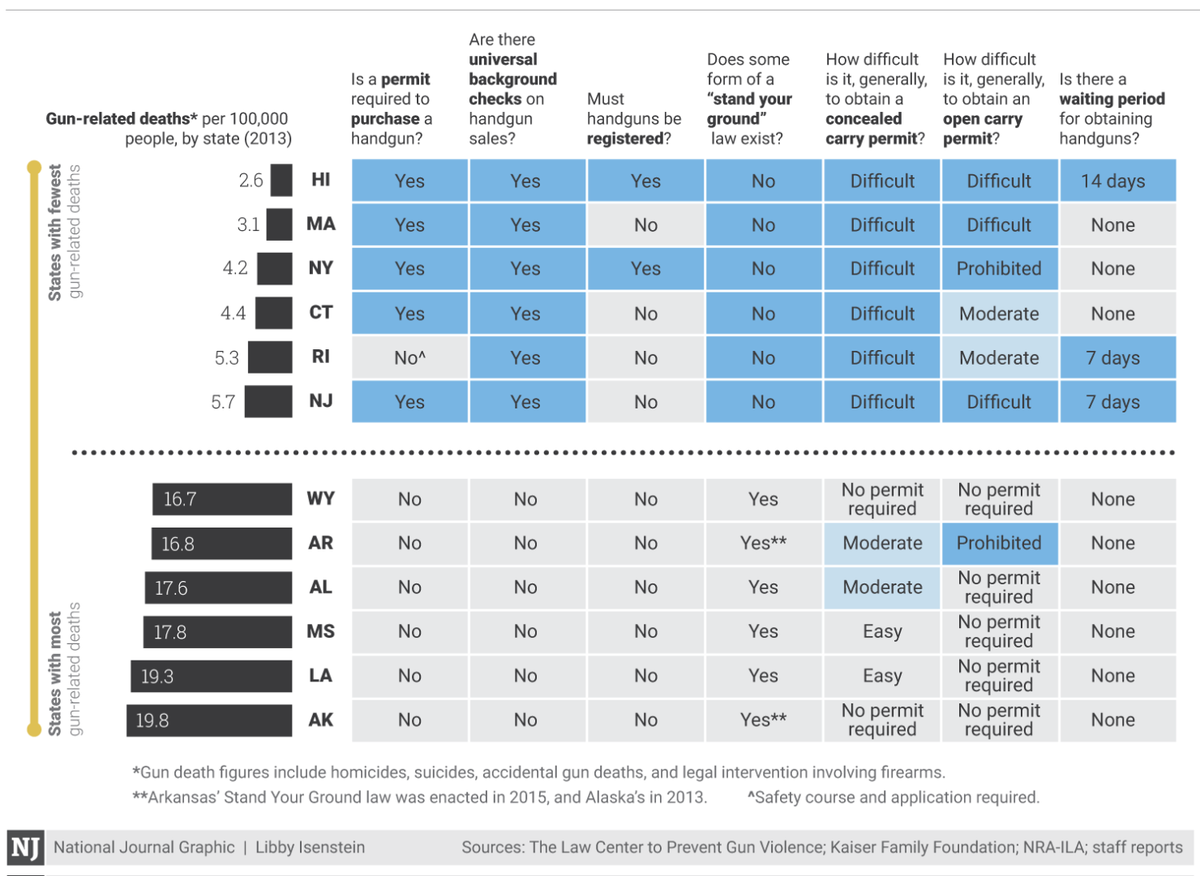 The states with the most gun laws see the fewest gun-related deaths