Even conservatives expect America to become more liberal
Americans are divided on whether they want the country to become more conservative or more liberal, but even conservatives widely expect the country to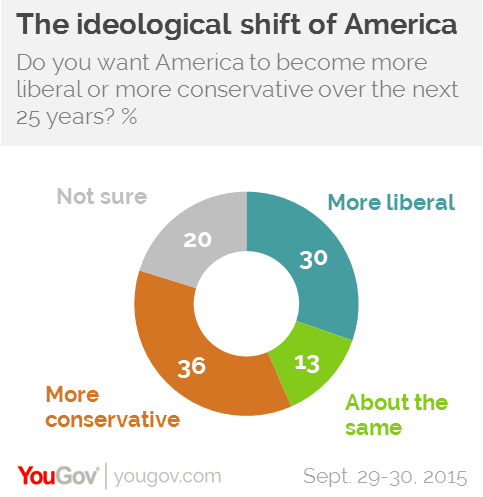 So far 2015 has undoubtedly been a good year for liberals. The Supreme Court has legalized same-sex marriage throughout the country and Obamacare is now almost totally implemented, while legal threats to the system have been struck down. Looking back just ten years to the apex of conservative power after George W. Bush's re-election, however, illustrates how quickly fortunes can change.
YouGov's latest research shows that few Americans (13%) want America to remain as it is today while two-thirds want the country to change. 36% of the country want America to become more conservative while 30% want the country to become more liberal. Unsurprisingly a large majority of Republicans (70%) want America to become more conservative, while just under half of Democrats (47%) want the country to become more liberal.
Despite the differences on the desired trajectory for America, people tend to expect that the country will become more liberal (43%). Even among conservatives 42% of them expect the country to be more liberal than it is today in 25 years time, while only 21% think that America will be more conservative by 2040.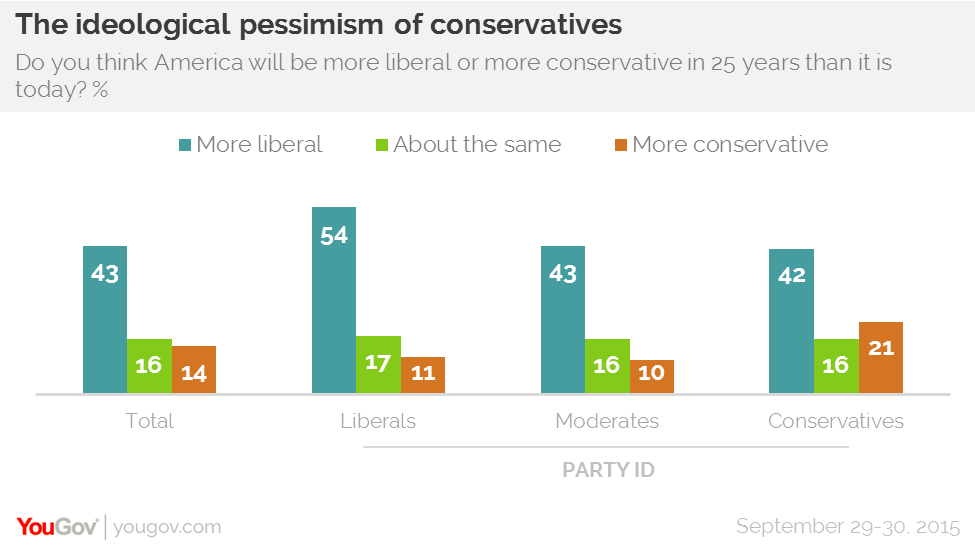 This expectation of a more liberal America reflects the widespread perception that the general trend in America over the past century or more has been for the country to become ever more liberal. Most Americans say that America today is more liberal today than it was 100 years ago (62%), 50 years ago (61%) or 25 years ago (57%).